Current riders… Mostly cruisers… I am old.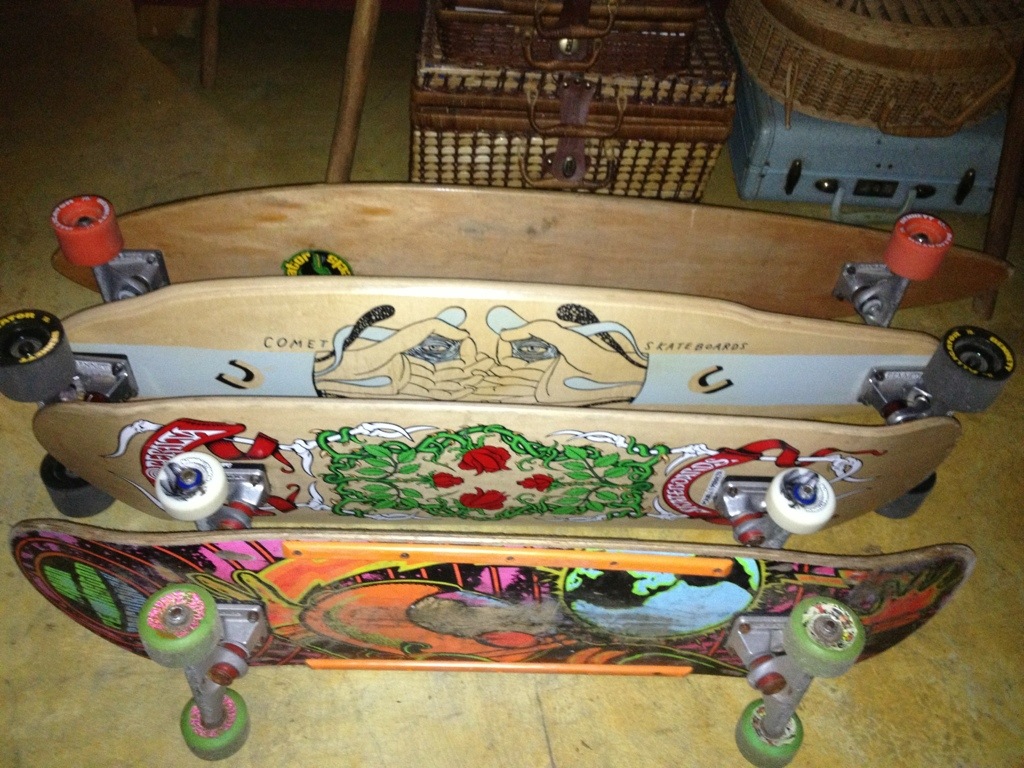 Bottom to top: 
Conspiracy Bryan Pennington with Indy IX 149's & Kreper kingpins, Shitbird Grimeballs 57's and RocknRon's Rockets
Powell RoseBones with Orion 150s & Kreper kingpins, Powell Dragon 90a 56's and Swiss Sixers
Comet Voodoo with Bigass Bennetts, wedged front with a SC Cruise Missile riser, Alligator 70mm 78a and Builtins
Arbor Pintail with Tracker Fulltrax, Alligator 62mm 79a and RocknRon's Nuclear Rockets
Comments:
Conspiracy gets cruised around skateparks mostly. I love this thing, if you have one and want to let it go, please PM.
RoseBones is a fun sidewalk cruiser and ditch board. I just set it up last week, so not much mileage… but Orions are WAY better than Indys due to shorter wheelbase: gives it more pop and maneuverability.
Comet just got set up tonight.. but seems like it'll be awesome. I live at the top of a 200′ drop gravel drive, so no where to test it.
Pintail with Trackers obviously does not turn… but that's OK, because it is low and stable, great for the half-mile cruise from the parking spot to the office.